Mainstreaming Sustainability in Business Planning & Practices
Introduction to TERI's Chief Sustainability Officers' Forum
Set up in 2014 by TERI, the Chief Sustainability Officers' (CSO) Forum is a community of India's leading chief sustainability officers and thought leaders working together towards driving sustainable development from the forefront. The CSOs engage with TERI through its Council for Business Sustainability (CBS) aiming to strengthening the business case for sustainability for the corporate whilst ensuring on-ground implementation of co-created project ideas on issues of materiality for respective organizations.
Members of TERI CBS are invited to join the Forum, led by their respective Chief Sustainability Officer/designate officers. A Council member may opt to nominate more than one staff member to work in multiple programmes or to create tomorrow's leaders.
The Forum will hold an annual conclave to share learnings and experiences, organize several interactive sessions with identified focus areas in sustainable development. This Forum will evolve plan and execute the same to fulfil respective organisations' environmental and social responsibilities. The plan will benefit the business as well as the community while reducing the adverse impact of business on the nature and society.
Mode of Engagement with Chief Sustainability Officers
Deliberations will include:
Appreciation of climate Change and natural resources depletion
How business benefits from and impacts natural resources
Evolve industries response to contain adverse effect of unsustainable developments
Showcase best practices
Opportunities that sustainable business practices offer
Key take-away at macro level:
How Indian business should address the above problem areas
What are the opportunities that can positively impact business
Creation of technical work groups suiting the need of the participating companies
CEOs – including members of the Executive Committee of TERI CBS and other invited CEOs – will be requested to deliberate on the reports for their respective area of priority/interest, seek clarifications from CSOs and endorse the recommendations with or without amendments.
Meeting of TERI CBS Chief Sustainability Officers
28 August 2018 | Narmada Hall, TERI Retreat, Gual Pahari
Session details
Knowledge sessions covering current and emerging sustainable practices in global environment, energy transition in India and emerging financial instruments for sustainability.
Action and consultation sessions on Collaborative approaches to waste management, SDGs and Indian Businesses and Matchmaking sustainability challenges with business solutions
Who should participate?
Chief Sustainability Officers/ Designated officers leading sustainability functions
Representative from TERI CBS member Companies
The participants will
Unlock business value from the Sustainable Development Goals (SDGs)/ Know the business opportunities associated with SDGs
Be the part of solution to India's waste management challenge
Network and learn from industry leaders practising sustainability
Visit to TERI's green campus and witness green technologies in action
Exchange ideas over novel business solutions to our common environmental challenges
---
Speakers
W. Scott Tew Executive Director, Center for Energy Efficiency and Sustainability, Ingersoll Rand
Scott Tew is the founder of the Center for Energy Efficiency & Sustainability at Ingersoll Rand (CEES) which supports all of the company's strategic brands - Club Car, Ingersoll Rand, Trane and Thermo King - and is responsible for forward-looking sustainability initiatives aimed at transitioning to more efficient and climate-friendly solutions, and minimizing resource use within company facilities.
In addition, Tew serves as a thought leader in linking public policy, economic impacts and a value-stream approach to sustainability. His recent efforts have led to the development of world-class initiatives including introduction of the company's comprehensive triple-bottom-line targets, the creation of the EcoWiseTM product portfolio, industry-leading public commitment to combat climate change at the UN Climate Summit; and as a pioneer in integrated reporting. Prior to this role, he led high profile programs to advocate for energy efficiency, green buildings and global greenhouse gas emissions standards and policies.
Tew holds graduate and undergraduate degrees in environmental science and ecology from Livingston University. He plays key roles in several important groups including: the World Environment Center; the Alliance to Save Energy; the US Business Council for Sustainable Development (USBCSD); Advanced Energy Economy (AEE); and the US and India Green Building Councils. He is the author of myriad white papers related to energy efficiency and sustainable practices and contributed to the recently released book, Practicing Sustainability, by Springer Publishing.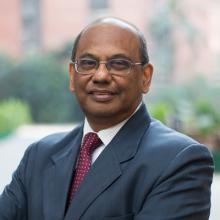 Ajay Mathur Director General TERI and Co-Chair Energy Transition Commission-International
Ajay Mathur is Director General of TERI - The Energy & Resources Institute, and a member of the Prime Minister's Council on Climate Change.
He was Director General of the Bureau of Energy Efficiency in the Government of India from 2006 till February, 2016.
Samir Ashta Chief Financial Officer – India
Mr. Ashta is the Chief Financial Officer for the CLP Group in India. He oversees the entire gamut of financial operations of CLP India and its various assets. He joined the company in 2007 and has 32 years of experience working with various companies in India. Prior to joining CLP Group he has worked in large Engineering, Chemical & Paint companies in India including Escorts Ltd, Max India, ICI Ltd & Demag Cranes. Mr. Ashta is a member of Institute of Chartered Accountants of India. He completed his MBA from the Faculty of Management Studies, University of Delhi.
---
CBS MEMBERS
Scroll